What exactly do people do with an MBA? There are as many answers to that question as there are students—maybe even more if you consider the changes possible over the course of a career.
Here are a few stories from the MBA programs at Berkeley Haas, full-time, evening and weekend, and executive, that might intrigue or inspire you: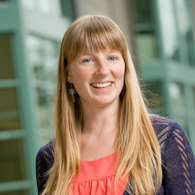 Evening & Weekend MBA grad Desirae Early made a move from sustainability specialist with Levi Strauss to McKinsey & Company Associate to Engagement Manager with McKinsey. She has enjoyed the fast pace and finds it rewarding because "you get to see the immediate impact of your work." Read Desirae's story.
EMBA grad Ashok Sundararajan used his degree to make a desired jump from consulting to product management in a startup environment – and to pursue a lifelong passion for transportation. Previously working in engineering consulting, he's now a senior product manager at San Francisco-based Ridecell, part of producting a technology platform to launch, operate, and scale new mobility services. He says the MBA helped him to define his course, address his skill gaps, and build up a strong network. Read Ashok's story.
Rachel Adams, a graduate of the full-time Berkeley MBA program, was a financial analyst for an energy company who wanted to work in tech and have a broader business view. Now she's a senior category merchant manager at Amazon, overseeing the strategy for a large portion of Amazon's apparel business. "It's exciting to know that my ideas, the bets I make, and the risks I take will legitimately impact the bottom line," she say. Read about Rachel and two other full-time grads who made career changes into tech.
Lots of MBA grads pursue entrepreneurship. Meet three Berkeley MBA ventures from the classes of 2017 and 18: Social Filter, a tool built around software that uses machine learning and natural language processing to analyze social media posts and flag potentially harmful content; NecesitoDoc, an online solution to bring low-cost health care to patients in the US and Mexico who have difficulty traveling to a doctor's office; and LikeWallet, developing an analytics tool to measure the performance and ROI of posts by an influencers. Read the Startup Roundup.
EMBA grad Tansy Brook wanted to scale her marketing impact by working for a larger firm. "I wanted to move beyond design thinking: how do you creatively see the problem, find the solution, build it? to systems thinking: how do you scale solutions for maximum impact?" She's made the move from a smaller company to Oracle, where she is now product marketing director of the Cloud Enterprise Resource Planning (ERP) and Enterprise Performance Management (EMP) team, helping to lead companies through digital transformations and empowering them with emerging technologies. Read Tansy's story
Christopher Jones of the Evening & Weekend MBA Program hoped to transition from a long career in banking to a new career in tech. Within the first few months of starting the program, he found a sales role in Google Cloud Platform that was focused on financial services in banking as a vertical—exactly where he came from. Today he covers Google Cloud Platform's San Francisco customers, managing B2B relationships. And he has plans to continue his career growth: "Sales was my way into tech, but there are classes at Haas that have given me skills to move to a role in other areas within Google's cloud platform like business development or marketing." Read Christopher's story.
These students and graduates all used the Berkeley MBA to get where they wanted to go. Want to learn more? Compare our three MBA programs.
This post, originally published September 7, 2015 has been updated with new student stories.