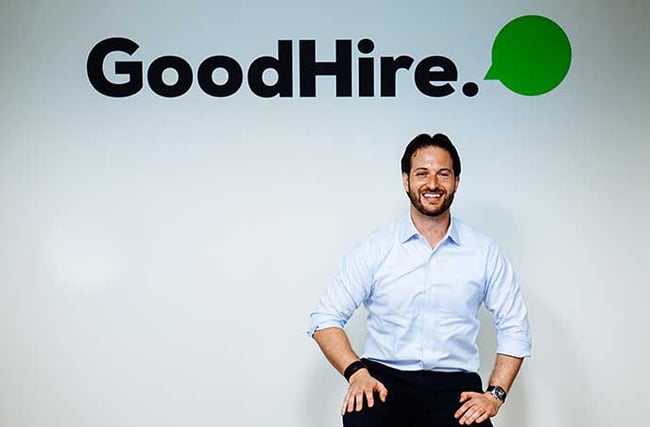 Meet Max Wesman, senior director of product for GoodHire (which offers employment background check services) and a 2010 graduate of the Berkeley-Haas full-time MBA program. Max talked with us about his career in product management:
What did you do prior to pursuing your MBA?
I was a management consultant with Deloitte Consulting.
What interested you about product management?
I loved consulting because of the variety of work I was exposed to and the challenge of constantly learning new skills, while attacking challenging and interesting problems. I also worked with incredibly smart and driven colleagues. What I felt I was lacking was a strong sense of ownership over the work I was doing and the feeling of creating something tangible.
For me, product management was a great opportunity to blend what I loved about consulting with being able to nurture, build, and launch a product or service into the market that people would use and enjoy. Not only that, but I would be able to stick around after finishing a project and work on improving the experience for the next release, all while working with customers to better understand their needs.
What are your responsibilities as a product manager?
My main focuses are making sure that our business is always moving forward, that we're exceeding customer expectations, and that my team feels supported and passionate about their work.
More specifically, I'm responsible for our product strategy and road map, prioritization of our release schedule, general guidance for the engineering team, communications to the broader company and executive team, and ensuring that support and business operations are running smoothly. I manage a group of product managers responsible for various segments of our products, our UI and UX designers, and our business analyst.
How has earning your business degree helped?
It first exposed me to alumni in the field who shared their experiences and various paths to reach their chosen careers. I used the Haas network to contact alums all over the Valley for informational interviews about what life as a PM was like at companies like Apple and Google. I also attended guest lectures by prominent PMs and used mock interviews to practice and focus in on areas where I needed improvement.
Ultimately, I used on-campus recruiting to help secure a summer internship as a PM and eventually a full-time role. My MBA very much contributed to me getting my first job as a product manager.
While in school, I focused on taking classes and building up experiences that I thought would help me look better to companies hiring PMs and assist me down the line in the actual job. Classes like Organizational Behavior, Customer and Market Development, Statistics, Financial Modeling, Negotiations, Leadership Communications, Market Research, Strategy, and Entrepreneurship all helped me strengthen my core PM skills.
In my career as a PM, I've definitely had to reach back into my business school experiences bag for everything from dealing with troublesome personalities on development teams, pricing new products, evaluating A-B tests for statistical significance, presenting a product vision, and building financial models for forecasting.
Should someone interested in product management pursue an MBA?
For those looking to get into this field, I recommend going to b-school particularly when the person comes from a non-technical field or has little previous business experience.
While there is no proper "Product Management course" in many programs (Note that the Berkeley MBA Program offers Managing the New Product Development Process), a curriculum of relevant classes and work experiences can easily be assembled to help build up a person's PM career readiness.
The other benefit is obviously the network. Being able to talk to experienced product managers about their day-to-day roles, and learning the do's and don'ts of interviewing is invaluable. In addition, many top employers looking to hire PMs come directly to business schools to recruit on-campus.
Want additional insights? Get our free ebook with insights from product managers on what they do, what they love about it, and how their MBA degees have helped them land and succeed in their jobs.