Last weekend, I attended Haas' Digital Media and Entertainment Club's annual >play conference. I've been hearing about this event since orientation and didn't have the chance to go the last two years and with my effort to make the most of my last year, I was not going to miss this one!

I signed up to be a >play volunteer which entitled me to a free shirt and free admission (nice perks). There was a lot on the agenda from keynote speakers to multiple panels and more.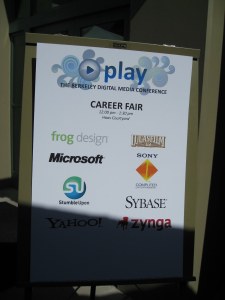 This conference, like so many others at Haas is organized entirely by students. One aspect I particularly enjoy is that it's an opportunity for the Evening-Weekend and Full-Time programs to get together and mingle informally.

During breaks from the panels, many students went to the expo (first of its kind in the history of >play), an interactive playground and exhibit hall where firms demonstrated some of their new games, products, and disruptive technologies. During lunch, we also had access to the >play career fair where we had the opportunity to talk to representatives from companies like Zynga (maker of the ever popular MafiaWars and Farmville), Sybase, and Yahoo!, among others.

Although I didn't get to attend the keynote speakers (volunteering during those sessions), I did get to check out the keynote panel (featured in the photo on the right) titled 'The Monetization Game.' They explored
business model innovation through the lens of the gaming industry. Douglass Perry, the moderator, facilitated the discussion with Neil Young, CEO of ngMoco (maker of games for the iPhone and iPod touch), Kai Huang, Founder of Guitar Hero, and Peter Moore, President of EA Sports. It was an awesome discussion about the future of consoles, downloads, mobile games, subscriptions, and more (yeah, I'm a little geeky).

The day ended with a cocktail reception and time to catch up with some old friends. I am so glad I didn't miss this chance to check out >play and I can always come back next year as an alum :).